Bursa
using a very inetersting mix of traditional techniques and modern technology. Look here for a knifemaking video how they work in Turkey:
So the knife I got is called a Tosya Cakisi and while it is a great knife in itself, what is most intriguing is that it opened up a whole world of knifemaking to me. When you look at the cutlers and smiths in Turkey you get pretty much humbled by their efforts, for they work with amazing skill and little provisions. And if you complain about your nine-to-five day job, try working from 8.30 am to 7 pm!
There is a lot to learn from Turkish culture. I daresay I am a bit prejudiced what concerns Turkish people in Germany, especially the younger ones. Many of those youth are taking pride in a "gangstah" mentality, are violent and rough, and spill junk and spit wherever they walk. And it is not exactly easy to tell one Muslim from the other, so to say. But if you talk to the elderly people, the ones who can actually still tell you about all that knowledge, which is about to get lost in the process of "europeization" you get a whole different picture. Their hospitality and generosity is simply great, they love to tell stories and are obsessed with good food and good cooking (and don´t confuse "Doner" Kebab with Turkish cuisine, it´s a German invention), and they are diligent workers and craftsmen. I sincerely hope they can preserve those crafts, including knifemaking and blacksmithing.
The next find is also quite interesting. I found one example on www.
antiquesnavigator.com
like this: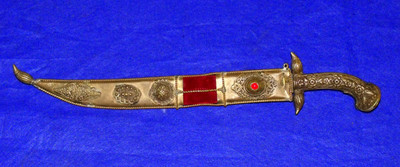 The next photo is mine. It bears some striking similarities to the one above, i.e. the decoration on the guard and pommel, the suede on the sheath, the wirework and the handle décor. The one above sold for 180$. The one below sold for 16€. :-)
I find it most interesting that all of my tribal knives have spine thicknesses under 3mm, most come in at just 1,5-0,5mm thicknesses. Yap, of course, this is not a prybar. But for prying you can use a prybar. But still, these knives can stand up to a lot of abuse. The secret is in the skill. Modern European and American knives are made by skilled workers, but often mastery is substituted by machinery. If you know your steel and how to work it, you can push it to limits otherwise out of bounds. Plus, if you break your knife in a Balkan village, you go back to the smith who had made it, and he will repair it. In modern capitalism, this is no longer possible, and liability issues are mirrored in the layout of the knife.
It is good to see that the knifemakers in Turkey try to bridge the gap between tradition and modernity.
I, for one have learned a lot by doing the research for this article, and I have gained another different perspective on knifemaking.